Creating a better product starts with learning what is and isn't working directly from the people who know best: the everyday Rosie shoppers. To learn more about how the customers who shop with our independent retailer partners use Rosie's ecommerce tools, why they shop online, and how often, we're able to evaluate our own products and share insights with our retailers.
In June 2021 Rosie surveyed 5,000+ people who have created Rosie accounts or placed an order since January 1, 2020. Our team sought to find out a few key things including: what is the most common reason to shop online instead of going in store? Do people plan to continue shopping online after the pandemic? What do people think of online ordering by demographic?
Here are the most important learnings for independent retailers who want to know the answers to those same questions and more: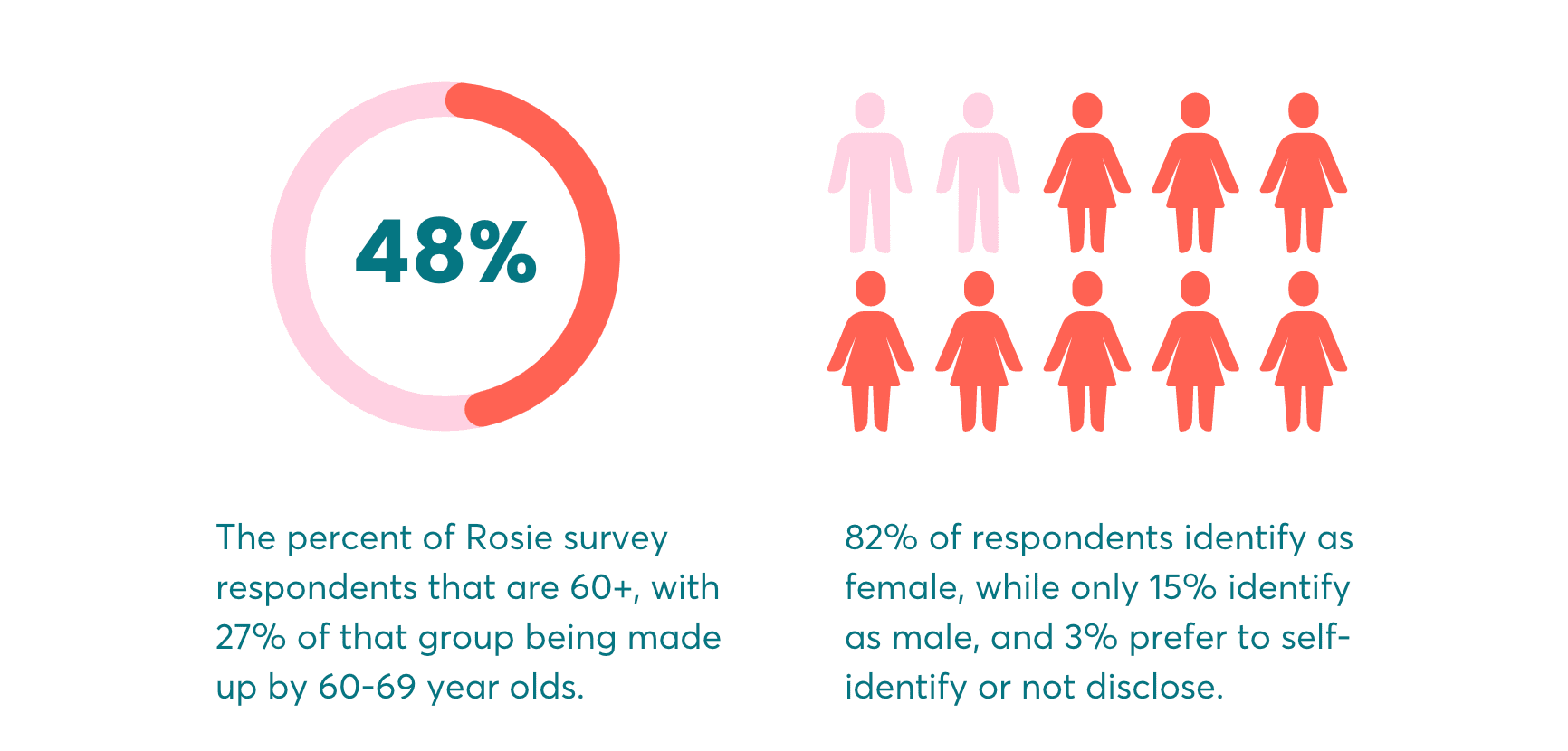 E-Commerce is Here to Stay
80% of survey respondents said they would continue using online grocery ecommerce services in the next 12 months, the same as or more than they currently do now. This includes 87% of millennial respondents (ages 24-40) and 78% of Gen X/Baby Boomers (41-70+).
Convenience is King
50% of all respondents said they use grocery ecommerce providers, like Rosie, to avoid a trip to the store/avoid lines while only 18% said it was due to COVID/safety concerns. Saving time was the most popular response for the youngest demographic, Gen Z (23 and under) at 45%.
Shout about ecommerce from the rooftops
In-store signage and word of mouth were the most popular ways for customers to learn about their local retailer's online program. 43% of millennials and 31% of Gen X/Baby Boomers learned about ecommerce through signs in-store. Word of mouth traveled to 18% of millennial respondents and 19% of Gen X/Baby Boomers.
So what are the most important takeaways for independent retailers?
While COVID may have been an important factor in convincing more people to try online ordering in 2020, it's not the most important reason why people shop online. This service is essential for customers looking to save themselves a trip to the store and save time.
Your online customers are planning to continue online shopping at the exact same rate or more in overwhelming numbers. These are the customers depending on you to continue offering this service and building out the online experience.
More people find out about your online program from in-store advertising and word of mouth from their networks than simply finding it online on their own. To continue to grow your online audience, you can't wait for them to come to you. It's essential to market this program far and wide and give customers an experience so delightful, they want to tell everyone they know.
Want to learn more about incorporating these learnings into your ecommerce plan? Need some help spreading the word of your online shop? Our team has you covered. Reach out to us today.