Online Shopping

Experience
Your store, your brand,
everywhere
Smart, delightfully easy local e-commerce used by:
An omnichannel experience
Rosie is the most trusted, locally focused e-commerce company, where customers can find and discover anything they might want to buy online from local stores.
With the industry's most agile online shopping platform, Rosie enables an e-commerce strategy that drives growth. Deliver an e-commerce experience that is consistent with your brand,  focused on quality, and serves your shoppers.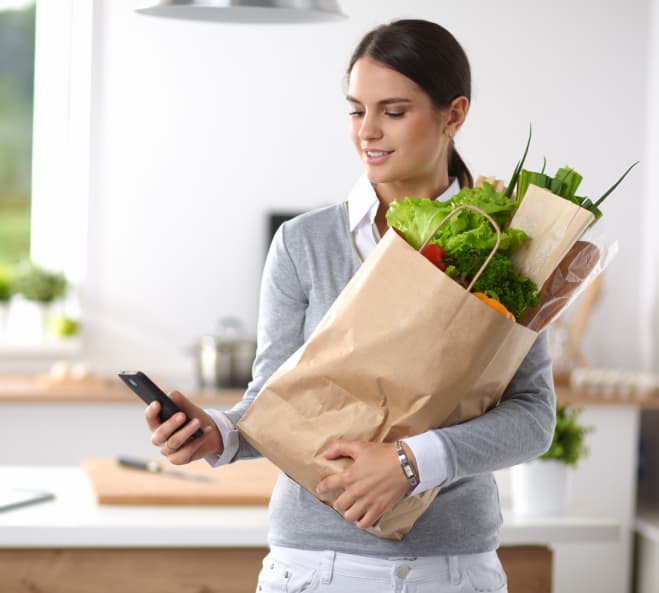 Make a striking impression
on every shopper
Create moments that deliver delight
Rosie's seamless user experience makes it easy for shoppers to instantly find their favorite local grocer and get started shopping right away. It's fun, convenient and fast for customers.
Available in the App Store and Google Play
Real-time ordering with easy clicking
Save orders for return shopping
Easy product searching
Your store deserves a
custom, branded experience
Showcase your weekly ad
Customize and highlight your store brand
Control what your customers see most
Showcase special discounts
Tools to customize your store
Admin interfaces designed for simplicity and intuitiveness.
Thoughtful design to make e-commerce easy.
Reduce labor cost by 30% with order fulfillment
Predictive search, custom browsing and recommendations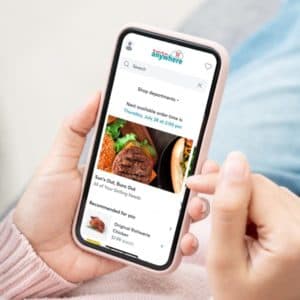 Level AA WCAG compliant user interface
State of the art payments
Rosie payments are the most convenient way for grocery stores to accept online payments. It eliminates the hassle of setting up a third-party payment provider or merchant account, and you don't have to enter your credentials into Rosie.
Pre-built integrations with Stripe and First Data
Scaleable, affordable pricing
The most used payments
Order
fulfillment

Shopper communication tools create unmatched customer satisfaction. Reduce labor cost by 30% using tested order fulfillment equipment.

Delivery
logistics

Retailer interface designed for simplicity and intuitiveness. Self-operate or outsource delivery logistics for best-in-class service.

Shopper
marketing

Connecting the world's best brands and trusted local retailers. Items are promoted in search and browse for campaign duration.

Friendly
support

7-day a week US-based phone and email support for both retailers and shoppers. Unlimited access to Rosie Help Center for best practices and training materials.

Security
& compliance

Data security and compliance is of utmost importance to Rosie.
All card numbers are encrypted on disk with AES-256 and encryption keys are stored on separate machines.

Data
analytics

Better understand how to serve customers online and in-store. Actionable insights driven by real-time transactional data.
Put your grocery store in the palm of their hand with Rosie's Retailer-Branded Mobile App
With a 3x higher conversion rate on mobile than on desktop, reach more customers and build bigger baskets at home, in-store, and on the go with an app that is fully retailer-branded.
Rosie's Retailer-Branded Mobile App allows customers to shop in your store from their mobile device. They can find your store and start shopping right away.
Introducing Rosie's Retailer-Branded Mobile App
Your retailer-branded mobile app for both e-commerce and brick-and-mortar retails stores.
A turn key mobile app

Reliable and easy-to-use, no developer needed

Capture more shoppers with your branding

Your Retailer-Branded Mobile App lets customers know they are shopping with your store, not a 3rd party.

Integrates with e-commerce, rewards, and digital coupons

Rosie's Retailer-Branded Mobile App works seamlessly with Rosie e-commerce or any e-commerce provider. Your app is an extension of your desktop experience, from loyalty to Weekly Ad.
Seamless integration with
all your systems
Integrate Rosie's e-commerce experience with your existing website and tech partnerships from loyalty and rewards to your preferred delivery service.
Rosie can support all your 3rd party integrations from POS, payment processor, rewards, digital coupons, delivery services, single-sign on, Weekly Ad, and Mobile App.
Clickable Weekly Ad
Transform your printed weekly ad into an digital shoppable experience that your shoppers can access and interact with easily across all their devices.