After many months of virtual meetings, digital conferences, and webinar-only education sessions, twelve Rosie team members flew to Las Vegas from all over the country to attend the 2021 NGA Show, September 19-21. Not only was this the first time many of these team members were meeting in person, this was also the first time in over a year we could reconnect with many of our retailer partners at a large-scale trade show.
To celebrate this occasion, Rosie had to make a splash, and that we did! From awesome swag, to an iPhone giveaway and even furry friends, we set out to create a welcoming space for current and new Rosie partners alike. For all of our partners who we were able to catch up with, it was a pleasure to see you again! To those who couldn't make it in person, we're giving you the full breakdown of the Rosie NGA experience.
The booth
Decked out in matching t-shirts each day of the conference, our team members took to the expo floor with Rosie Roast coffee and snacks while demoing our brand new store-branded mobile app. Visitors who stopped by the booth also had the chance to take home Rosie-branded spatulas, t-shirts, and tote bags. For those waiting to see the latest and greatest features at one of our demo laptops, there were five dogs who hung out in the booth over the course of the two days, ready to greet visitors with a hand shake or beg for a belly rub.
The panel session
On Monday morning Founder & CEO Nick Nickitas led a panel session on "The Future of Digital Merchandising: Going above and beyond the in-store experience online." Nick was joined by a panel of Rosie retailer experts: Alexa Dash of Dash's Market, Thomas Horne of Associated Food Stores, and Jodi Drake of Davis Food & Drug. Each panelist shared insights on how they approach digital merchandising with Rosie's features, from marketing panels to the clickable weekly ad, Collections, Cater, and more! For a copy of this presentation, reach out to our team.
The party
One of the most talked about events of the show was Rosie's "Hoppy Hour" at Beer Park Rooftop Patio at the Paris Hotel, hosted alongside AppCard and ShoptoCook. It was an excellent opportunity for conversation with independent retailers, all within view of the Bellagio's famous fountain show.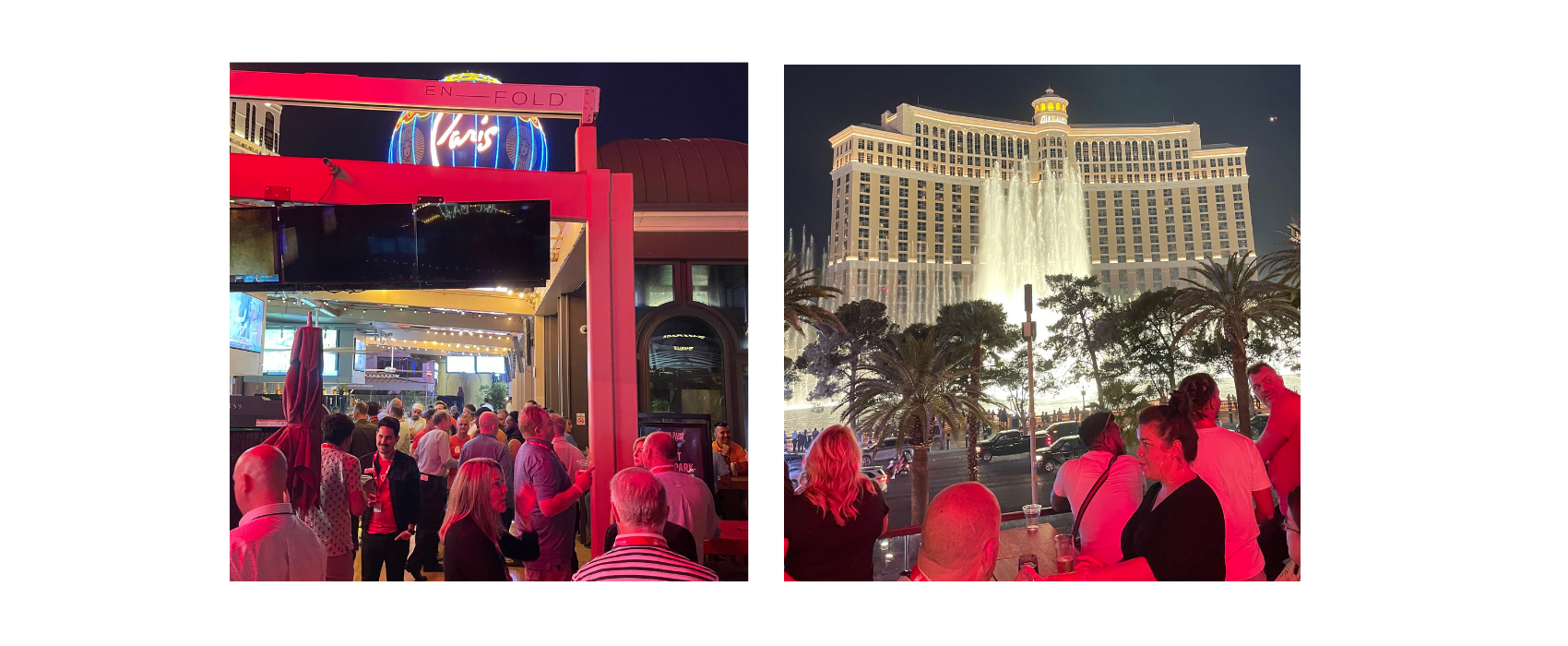 We'd like to extend a huge thank you to all of the retailers who made this year memorable. It was fantastic getting to see our partners again in person, and we can't wait to do it again soon in February.
Interested in hearing more about the store-branded mobile apps we rolled out at NGA? Our team can't wait to tell you about them!